Coffins and Caskets
The coffins and caskets shown are manufactured by one of the Country's leading and long established companies, using skilled craftsmen and traditional manufacturing techniques.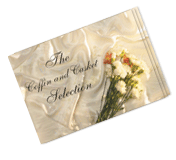 Click above to download the full brochure as a PDF
All products featured are manufactured from managed sustained yield forests where management and replanting are government supervised.
Colours and models can be combined to meet individual requirements and most models are suitable for both burial or cremation purposes. However, some models may require a change of furniture in order to comply with cremation authority regulations.
On this page we show just a small selection. If you wish to view the entire range we have included a download link (above), for the full Brochure in PDF format.
Just to say thank you…
"Thank you for all you have done for me and being there when I needed you."
A thank you message…
"just a quck note to say thankyou so much for the professional and sympathetic manor which you carried out your services at my mothers funeral. Special thanks to Kay for her organising and Sandy for the way he looked after us on the day."
Thank you…
"Thank you for all the help and support you gacve us during our sad time. On the loss of the late Irene Roberts and a big thank you for helping us give Irene a lovely send off."